Roper's Narrative was one of the first to visually depict the horrors of slavery. Throughout this lecturing tours in the British Isles, countless Britons accused him of exaggerating the violence enslaved individuals faced, to which Roper responded: I'll tell you my story.
The statement given by Roper was really harrowing to the mind. The sufferings he endured when under the wretched system of slavery, were intolerable great. His object in stirring up British benevolence is to enable him to purchase the emancipation of his mother and sister who are now in bondage in that boasted land of freedom, America.
Roper was born enslaved in North Carolina around 1815. As with thousands of other enslaved individuals, his father was also his white slaveowner andm as a result, Roper had a fair complexion. He was severely punished for his numerous escape attempts (by his count around 16). Whilst enslaved he witnessed brutal violence: a neighbouring plantation master forced enslaved men and women into barrels, nailed them shut so the nails protruded in the inside, and rolled them down the hill. On other occasion, he watched from a jail cell as 28 Black men jumped into the Charleston River and drowned themselves rather than be separated and sold from their families. Roper remarked in one speech that this event was as deeply traumatic to him as the parting with his own mother.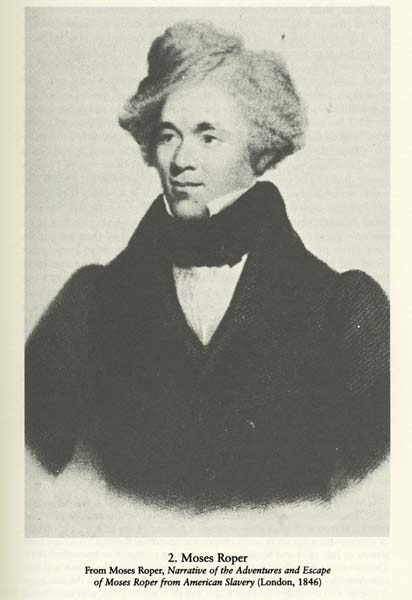 Moses Roper (Wikipedia)
Remarkably, Roper escaped from Florida (where he had been sold to another slaveowner) and travelled to New York. Eventually, he visited Britain and attracted large crowds in London and towns in the North. He was educated at University of London in 1836-37, and published his slave narrative. From 1837, he spent several years travelling around the British Isles: discover his speaking locations map using the link above, and you will see his extraordinary activism - reaching from Penzance to Inverness. He exhibited whips and chains, sometimes putting them on to illustrate how they worked, and was unrelenting in his descriptions of violence. Unfortunately, his unwillingness to compromise to Victorian sensibilities meant he faced severe criticism. Newspaper correspondents accused him of lying in his descriptions, as they could not believe such horrors could exist: even one abolitionist begged him to curtail his graphic language, but Roper replied "I shall tell the truth."
Roper married an Englishwoman and had four children, briefly settling in Canada. He returned to the UK during the mid 1840s, and again in the mid 1850s. At this point he returned to the US alone, and continued lecturing into the 1880s. In 1891, he died in a Boston hospital, with his loyal dog Pete by his side.
He was very fluent in his language and eloquent in his description, but it was quite plain, even to the most casual and unreflecting observer, that his mind was often recalled to far distant climes and painful memories, when referring to his early days to the homes of his childhood and his awful hair-breadth escapes, through woods and wilds, over lake and river, now etched up a tree to escape the ruthless pursuit of men and now immersed in water to evade the scent of blood-hounds, with one of which he gave palpable proofs of a sanguinary encounter. And no wonder he should be depressed when he knows that his mother, if living, besides nine brothers and sisters are all still at the mercy of the overseer's lash.